Adobe only released Lightroom CC 2015/Lightroom 6 in April, but already they've come out with an incremental "dot" update. There's also a pretty big update for Photoshop CC.
If you're a Creative Cloud subscriber  you get some exciting new features, including a Dehaze slider and local adjustments for Whites & Blacks. Unfortunately, they're not available in the Lightroom 6 standalone version, but don't fret, there's a workaround that I'll discuss below. Both versions have updates for bug fixes, new camera profiles and lens support.
What's New
Dehaze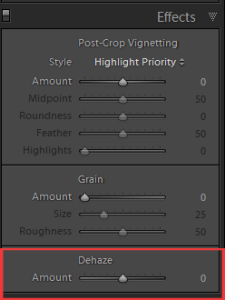 Creative Cloud subscribers will now see a Dehaze slider in the Effects panel of the Develop Module. You can use this to remove haze or fog, or even add it to create an atmospheric effect.  It's also useful for backlit photos.
Tip: For better results you should set the white balance first. If your image looks too "colorful" after the adjustment, you can reduce the saturation a tad.  Then you slide the Dehazer to the right it will darken the image a little, so you may need to make a slight exposure adjustment. You can also make additional adjustments as needed, such as tone,  noise reduction, etc. Be careful that you don't push the Dehaze slider too far to the right or you could end up with noise or lens vignetting.
While Dehaze is only available for CC subscribers at this point, if you have the Lightroom 6.1 standalone version, you're not entirely left out. You can get a free Develop preset group here from Stu Maschwitz at Prolost that will allow you to do the same thing if you have Lightroom 6.1 standalone (hooray!). It appears that perpetual license users will have to wait until Lightroom 7 to get new built-in features like the Dehaze slider.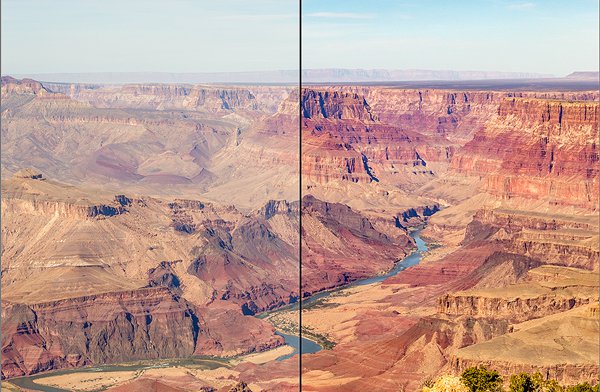 Local Adjustments for Whites & Blacks
There are also new Whites and Blacks sliders in the adjustment brush, graduated filter and radial filter that you can use to fine tune the tones in selected areas. I love all the extra control that Adobe has been adding to Lightroom lately (like the selective Radial and Graduated filter brushes they added with the major new release back in April).
See the New Dehaze Feature in Action
Watch this quick video I made to see the new Dehaze slider in action.
Other Updates
Upgrading from Photoshop Elements
If you're a Photoshop Elements user coming over to the Creative Cloud, you'll find that the image catalog that you had in Elements will be imported into Lightroom and all your people tags and keyword tags now automatically get imported into Lightroom with your photos. Same goes for Aperture users.
Lightroom Mobile
Lightroom Mobile for iPhone/iPad , which is available for Creative Cloud subscribers, was updated with new features:
Ability to sync your iPhone/iPad videos back to your desktop. Before, only photos were synced and videos had to be imported manually.
Post-crop vignettes (darkening or lightening the corners of your images)
Tone Curve adjustments
HSL and B&W mix adjustments – this enables you to adjust the brightness and darkness of b&w tones based on the underlying colors.
Bug Fixes, New Camera Support and Lens Profiles
A number of bugs have been fixed and there is new camera support and several new lens profiles. These updates are available for both CC subscribers and Lightroom 6 perpetual license users.
New Camera Support:
Nikon 1 J5
Nikon D810A
Fujifilm X-T10
Panasonic DMC-G7
Pentax K-S2