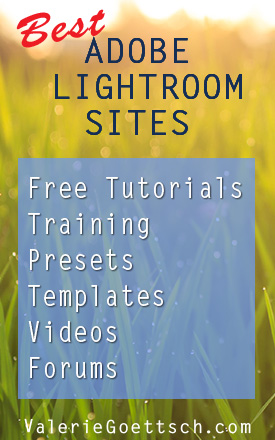 There are lots of places to get Lightroom tutorials or other help and resources, many of them are free. I've scoured the internet and spend countless hours asking in forums, chatting with experts and checking out websites and came up with what I think is one of the most comprehensive lists of Lightroom sites on the web.
It includes links to popular blogs and free tutorial sites, paid training and membership sites, presets and plugins, forums and discussion groups. I've even included the top Lightroom YouTube channels and pretty much everything else I could find that could help you with processing, organizing and printing your images.
These sites are run by experts like Scott Kelby, Victoria Bampton, George Jardine, Tony Northrup, Trey Radcliff and others, so  you'll find lots of good resources. They all love to teach and they're pretty generous in offering free stuff, you'll even find a bunch of links to free presets.
I'm constantly adding to the list, so if a site you like is missing, please let me know in the comments. I'll check it out and if it looks like it will be helpful to people I'll add it.
 Blogs, Websites and Tutorials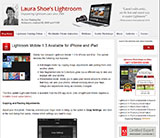 Laura Shoe's Lightroom – Laura is an Adobe certified Lightroom instructor and photographer. Her site has a lot of helpful free tutorials, both written and video, as well as paid video training including the very popular video workshops, "AdobePhotoshop Lightroom 5: The Fundamentals and Beyond" and "Lightroom 5: Producing Great Output." She also offers private instruction and workshops. Laura has a way of explaining things that makes it easy for beginners to understand and implement quickly. Her tutorials are very detailed and experienced users will pick up lots of helpful tips. She always seems to know what people most want to learn and how to help you "get it."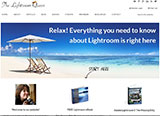 Lightroom Queen – If you're brand new to Lightroom and don't know where to start, the first thing you should do is head over to Victoria Bampton's site and download her free Lightroom Quickstart Guide. It will get you up and running fast. It sure helped me when I was getting started. It's a really great guide and she's super generous to offer it for free. You can thank her by getting her book, "Adobe Lightroom 6 – The Missing FAQ" which will give you answers to frequently asked questions. Victoria, AKA The Lightroom Queen, runs Lightroomforums.net and she found the same questions came up over and over, so she came up with this book so you have all the answers at your fingertips. If you have some unique issue going on in Lightroom that has you stumped, Victoria is the one you want.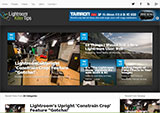 Lightroom Killer Tips This is an awesome blog, run by photographer and Photoshop/Lightroom guru Scott Kelby of KelbyOne.com. He and Pete Collins, R.C. Concepcion and other experts give daily tips on using Lightroom. It's one of my regular go-to sites to learn new things. Even very experienced users will pick up great tips. Like this one, about a little "gotcha" that can happen when using the Upright Constrain Crop feature. Be sure to add this site to your RSS feed. What I especially like is that they're quick tips, not extensive tutorials that take a long time to get through, but they're spot-on.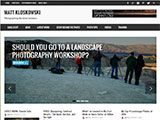 Matt Kloskowski Matt is a bestselling author of 20+books, a Lightroom and Photoshop instructor and amazing landscape photographer. This is his personal blog. It's another of my favorite- go-to sites. He always has great tips, tutorials and articles on Lightroom and photography in general, as well as a showcase of his own beautiful images. Matt is the former VP of Photography at on1.com where he does lots of video tutorials. He is a great teacher, easy to listen to and follow and I always learn something new from him. He teaches seminars and conferences all over the world. You'll find him on KelbyOne, CreativeLive and other training sites.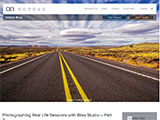 OnOne Blog – Contributors Matt Kloskowski, Patrick Smith and Peter Kinnan show post-processing techniques using Lightroom and Perfect Photo Suite in free videos tutorials. If you're not familiar with it, within the suite is Perfect Effects and it has some interesting presets and filters for finishing off your images after you've done your basic processing in Lightroom.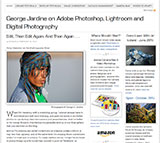 George Jardine on Adobe Photoshop, Lightroom and Digital Photography – If you want to learn Lightroom from someone who knows it inside and out, George is your guy. He played a key managerial role with the original development team for Adobe Photoshop Lightroom and he was Adobe's first Pro Photography Evangelist for Lightroom. On his blog George offers several excellent, paid video tutorial series on Photoshop, Lightroom and photography. You can also find tips and articles and info on his latest worldwide photography workshops in cool places like India, Spain and Iceland.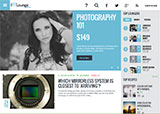 SLR Lounge – This is a massive photography site and they have a very good, in-depth section on Lightroom with detailed written and video tutorials for LR3, 4 and 5. They cover workflow, the develop module, using Presets and more. They also feature paid Presets, tons of tutorials on Photoshop and digital photography, photo critiques, contests, store and forums.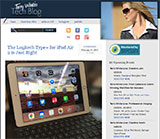 Terry White's Tech Blog – Terry is the Principal Worldwide Design & Photography Evangelist for Adobe Systems, Inc. That means he's the go-to guy for just about everything you ever wanted to know about Adobe products. His personal blog has lots of video tutorials on Lightroom and Photoshop and other Creative Cloud apps. Terry is also the host of Adobe Creative Cloud TV with tons more tutorials, and you'll find even more on hos very popular YouTube channel.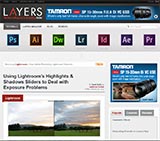 Layers Magazine Top notch tutorials by the likes of Scott Kelby, Matt Kloskowski, Daniel Bryant and other experts. This is an excellent digital magazine run by KelbyOne on everything to do with Adobe products so you'll also find help with Photoshop as well as Illustrator, After Effects, Dreamweaver and more. There are also photography and gear reviews, so this is a good read.
KelbyOne Blog – You'll find free quick tutorials and photography tips. To get in-depth video tutorials, go to the main site, KelbyOne.com where you can purchase individual online video courses or join the membership program, which is well worth it. More about it below under Membership Sites.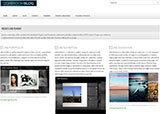 Lightroom Blog – run by Sean McCormack, an Adobe Community Professional. He offers free tips and tutorials as well as one-to-one training and small group classes in Lightroom and Photography. You'll find his plugins and presets including gallery plugins and a set of presets for people photography He's also a writer and has a very helpful ebook called Essential Development for Lightroom 5 that will really help you delve into post processing. Plus it includes 100 presets to boot.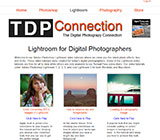 Digital Photography Connection – This site is all about video tutorials. You'll find tutorials with the latest photo effects, tips and tricks. Some are free, others are available to annual pass subscribers, who get access to about 347 Lightroom tutorials and over 400 on Photoshop. There's also a step-by-step training series for new users.
Digital Photo Buzz – Photographer Mark Stagi's site with Lightroom andPhotoshop tips and tutorials, business and marketing advice for photographers, industry news,product reviews, and beautiful photos for inspiration.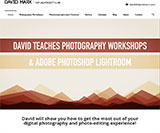 DavidMarx.com (The Lightroom Lab) – David Marx offers free and paid Lightroom tutorials as well as a series of premium ones for members of his associated site, msjphotography.com. He also teaches photography workshops all over the world. Recent ones include Yellowstone National Park and the Northern Lights in Canada. He's got one in Coastal Maine coming up in September that looks like a great experience. His landscape images are stunning, so be sure to check out the photo gallery on his site.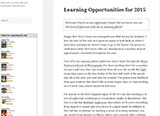 Lightroomers – Rob Sylvan is the Lightroom Help Desk Specialist at Kelbyone.com and he's also a photographer, teacher and author. Through his blog he has info on his photography workshops and classes as well as tips and tutorials. He's also written a popular book called Lightroom 5: Streamlining Your Digital Photography Process that's especially good for beginners.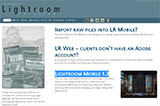 Lightroom Solutions – John Beardsworth's site is filled with news, articles and blog posts to help you use Lightroom more efficiently. You'll also find plug-ins he's created and info on his online coaching. John puts a lot of emphasis on managing your images, not just processing them. A must-read is his 10 Tips for New Users.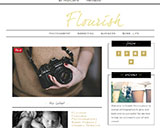 Flourish – Jill Levenhagen's site focuses on women photographers and provides teaching and encouragement. She covers Lightroom and presets plus the business side of photography, from blogging to SEO and marketing. She also generously offers tons of freebies, from Lightroom templates and presets to Photoshop actions, textures and brushes.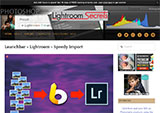 Lightroom Secrets – Photographer Gene McCullagh, an Adobe Certified Expert in Photoshop Lightroom, runs this site. You'll find tips, tutorials and news and occasionally articles on photography as well. Gene also writes about helpful plugins.
tuts+ – There are 50+ tutorials plus a good series called Learn Lightroom in a Week. You'll also find a host of other free tutorials on Photoshop, photography, video, graphics, motion design and other topics. You can also subscribe for more advanced lessons.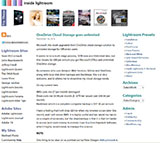 InsideLightroom – On his blog, photographer and author Richard Earney generously offers dozens of free presets and the latest Lightroom news.
Lightroomzen – Created by a wedding and portrait photographer, this blog has tips and tricks, video tutorials, free presets, photographer interviews and more.
Paid Courses & Membership Sites
KelbyOne – Scott Kelby's excellent, comprehensive training site is not just for Lightroom, but Photoshop, photography, design, video and more. An annual membership gives you unlimited access to all tutorials. You'll find world-class, highly respected experts like Scott, Pete Collins, RC Concepcion, Matt Kloskowski, Glyn Dewis and many others teaching these online video courses. And if you're not ready to sign up for a full membership yet, you can take an individual class for a really low rate.

Laura Shoe's Lightroom – as I mentioned above, Laura offers several comprehensive downloadable video courses from the basics to advanced features. Her "Fundamentals and Beyond" course is 12.5 hours of training so you get a lot of bang for your bucks. She literally covers every aspect of Lightroom and her courses are detailed, easy to follow and ideal for beginning and intermediate users. Laura also offers private instruction, workshops and free webinars.

Cole's Classroom – Cole Joseph has an 8-hour HD video series with an in-depth look a the tools and features. He's easy to follow and he gives you included images to work along with the videos. He gives you a thorough understanding of catalogs, folders and collections, gives tips on keywording, sorting images and retouching techniques. He also has a video workshop on Newborn Photography. You can check out Cole's teaching style by viewing some of his free tutorials, and he generously offers some free presets as well as premium collections.
FotoClasses – This site features an easy-to-understand online video course, "Lightroom Essentials: Organize & Optimize," with 6+ hours of Lightroom training by Rob Knight, an Adobe Lightroom certified instructor. In this beginners course he covers importing and organizing and making basic as well as advanced adjustments to raw and jpeg images with several projects to help you learn. There are additional courses on photography topics such as landscape, using flash, black & white photography and more.
Trey Radcliff's Lightroom Tutorial – This video series shows you how to organize and edit your photos. It's meant for any skill level and once you've mastered the basics, you can move on to the included "extreme tricks" and "advanced photo editing" sections. Trey's bonus bundle includes presets, raw files more. He's also got a comprehensive HDR course for beginners. If you view his portfolio you will be jumping to attend one of his photography workshops, like I am.

George Jardine on Adobe Photoshop, Lightroom and Photography – George offers downloadable video workshops on the Library, Develop Modules, Location Workflow and Catalog Management, updated for Lightroom CC /6. His series on Location Workflows & Lightroom Catalog Management is especially helpful because many other courses aren't nearly as comprehensive. He aims to get you on the right path from the beginning so you don't end up with catalog problems. He also offers small group traveling workshops to exotic places like India.
Jerry Courvoisier– It's hard to beat in-person training so you can ask questions from an expert. Jerry, an internationally recognized imaging technology consultant, teaches two-day Lightroom and Photoshop workshops throughout the U.S. plus one-on-one online training. His workshops are hands-on and interactive, fun and engaging.
John Beardsworth – Lightroom Solutions– John is a U.K.-based leading expert on Adobe Lightroom and on DAM systems. He approaches Lightroom from an image management perspective as much as processing. If you want one-on-one, online coaching from someone who knows Lightroom inside and out, he's the guy you want. He'll even record your session so you can refer to it later. He also offers in-person training.
CreativeLive.com has a host of Lightroom as well as Photoshop courses. They also offer classes that you can take for free for a limited time. They offer a yearly Photoshop Week which includes Lightroom classes and if you can catch it live it's totally free. Later the same courses will be available for purchase individually or as a bundles.
Lynda.com – This is a leading educational site with online courses on everything from Lightroom and Photoshop to photography, design, software and much more. A monthly or yearly subscription gives you unlimited access.
MSJ Photography – Mark S. Johnson's site offering 600+ premium Lightroom and Photoshop tutorials for a low monthly free. Tutorials are taught by Mark Johnson and David Marx, both well-regarded experts with a fun, easy-to-understand teaching style. The  site also has lots of free content plus books and ebooks.

Serge Ramelli – He's a Paris, France-based landscape photographer offering Lightroom, Photoshop, HDR, and photography training. His downloadable video courses are reasonably priced, fun to watch and you will learn a lot. Plus, many of his gorgeous images are of Paris, and who can resist that?
Steele Training – In his online video course "Lightroom Made Easy" Phil Steele covers a wide variety of photos including landscapes, portraits, fashion, sports and architecture in a comprehensive course covering Lightroom 3, 4 and 5. As new features are released he updates the course, so I suspect you'll also get training on the new Lightroom 6 features. Phil's aim is to provide well-organized training that's easy for amateurs to understand, at a reasonable price and I think he does a good job. Also, check out his other courses on photography basic, portraits and event photography.
Udemy – This is a huge education site taught by experts in many different fields. You'll find free and paid courses on Lightroom, Photoshop, Photography, and just about any other subject you can think of. There are frequent coupon codes and discounts so you can find good courses at very reasonable prices. I have my course Taking Family Photos Like a Pro on Udemy, which includes portrait retouching in Lightroom. You can get a special coupon code to take it at a discount here.
Adobe Lightroom Sites
These are the official Adobe sites.
Julieann Kost's Blog – Julieann is the Principal Digital Imaging Evangelist for Adobe Systems. On her blog she has detailed tutorials, video training and shortcuts for Adobe's Lightroom and Photoshop. There isn't anything about Lightroom that she doesn't know, and she's a great teacher, easy to follow and very detailed. She always has great tips on how to be more efficient.
Lightroom Tutorials – There are lots of free videos you can watch. There are videos for all levels, from beginners to experts.
Lightroom FAQ – Just what it sounds like, this is Adobe's moderated forum to go to when you have questions or problems with Lightroom.
Lightroom Exchange – Free and paid presets and add-ons.
Lightoom Help Topics – This page has links to tutorials, workflow and developing help, Creative Cloud and working with Lightroom Mobile
Lightroom User to User Forums From this page you can ask a question or look a recent discussions. It's a very active forum, so you'll find a lot of good info here.
Beginners Forum – If you're new, start here. No such thing as a dumb question, you'll feel comfortable here.
Adobe TV – Good place to learn the basics. You'll find over a hundred tutorial videos covering the workspace, importing and developing photos, retouching, cropping, printing and more. They are hosted by some of the best people in the business, like Julieann Kost and Terry White. Easy to follow and you can jump right to the video you want.
Lightroom Journal – Official blog of the Adobe Lightroom Team with info on the latest releases and updates. This is kind of technical stuff, such as announcements of new versions of the Lightroom Mobile app and the like.
Adobe Photoshop Lightroom Product Page – Get info on product and subscription plans. If you don't want the subscription and prefer standalone software, scroll down to the bottom of the page and you will see the info. This is where you can also download a free 30-day trial and get links to Support.
Forums & Discussion Groups
Adobe Community The entrance to Adobe's forums. From here you can jump to the Beginner's forum or go directly to the latest discussions.
Lightroom Forums – This is THE place to go when you get stuck. Their gurus have years of experience and are amazing at coming up with solutions. Victoria Bampton, "The Lightroom Queen," runs this forum. I'm always impressed with how quickly she and the other great people there get back to you, and they have infinite patience.
Facebook Lightroom Help Group – For people wanting help using and/or learning Adobe Lightroom. This is a closed group, meaning anyone can join but the posts won't appear in your feed. It's administered by Victoria Bampton. Didn't I tell you she was helpful? She's all over the 'net helping people with their Lightroom questions.
https://www.facebook.com/lightroom – Adobe's official Lightroom page with links to outside tutorials and tips and beautiful examples of photographers' work.
Lightroom Groups on Flickr – This page show all of the different groups you can join. The most popular one is Presetting Lightroom with 12k+ members.
Presets
Free Presets
Fixthephoto – This photo retouching site offers 500 presets for free plus a large collection of paid presets including wedding, newborn, matte, sepia, real estate, interior photography, HDR, product photography, portrait and more. 
Flickr Group – Yep, there's a whole group devoted to presets created by group members.
Free Lightroom Presets – This site, supported by Lookfilter.com, has 22 free presets to date, nearly 5K members and 38K downloads. You must sign up first (free) to download presets.
FreeLrPresets – A new site with 15 presets to date, including B&W, Fashion & Beauty, Landscape, Portrait, Urban and Vintage compatible with LR 4-5-6 and CC.
F/Stop Spot – Good resource to find lots of presets.
Info Parrot – In addition to a free set of 10 HDR presets (in return for  sharing the page), this  site offers several dozen Lightroom tutorials.
Lightroom Killer Tips – Some really nice ones for Lightroom 4 and 5.
OnOne Presets – Several free packs for LR 4 and 5 including a set for a faded, stylish finish; spotlight presets; and another that gives you the look of Instagram filters, cross-processing, grunge looks and more.
Presets Heaven – Free wedding presets and Project 365 (yes, 365 presets, all free).
Presets Galore – Hundreds of free presets, many for portraits. You can download a new preset every day for free. There are also Pro Preset bundles you can purchase.
Preset Love – Dozens of Landscape and Portrait presets
Presets.me Free Portrait, Street, landscape and Indoor presets
Paid Presets
BeArt Presets – Lovely, useful presets that work on a variety of image types. There are bundles for wedding, portrait, newborn, nightclub,food, vintage, travel, landscape, interior design, HDR, black and white and more. These are well done without over-the-top effects you probably won't use. While most are paid, there free presets available so you can try them out. There is also a nice selection of Photoshop Actions.
The Bell Sisters -The London-based sisters offer beautiful presets and Photoshop actions. I like their Natural Colors preset that just gives images a nice enhancement without them looking over processed.
Cole's Classroom – Cole's collections include Newborn Essentials, Endless Elegance for a film matte look, and a set called "Crisp & Clean." He also offers a set for free when you subscribe to his newsletter. It's well worth it, by the way. Not only are the presets beautiful, but his newsletter has lots of helpful info for photographers.
Delicious Presets – Wedding photographer Krzysztof Ziętarski offers several sets of presets for color and b&w and he'll also give you some free ones.
Digital Photography School –  Lightroom pro Cole Joseph has crafted 7 collections of presets for DPS — 100 in all, including Plus Portraits, Lively Landscapes, Street Grit & Grunge, Bangin' Black & White, Sleep Sepia, Classic Vintage, and Quick Adjustments. Download them here.
Etsy – More than 800 here by various developers
Jared Platt – Offers 10 different collections and counting. These are good ones. Jared teaches Lightroom workshops for Creative Live, photography workshops around the world, so you know that his presets are done right.
Kubota – Kevin Kubota has created dozens of beautiful, one-click presets for all styles of RAW or JPEG images. He also has workflow presets for exporting, web galleries, and slideshows.
Learn Photography with Anthony Morganti – Anthony offers 6 reasonably priced bundles compatible with LR 4 thru 6 / CC: Lightroom Presets; Wedding, Lifestyle & Outdoor; HDR Like Effect; Black & White; Newborn & Child and Macro. He's also got several Photoshop Actions bundles. Look for his frequent sales to get an even better deal.
Lightgram – 10 collections including film and analog, Instagram-look, B&W, light leak effects, and more. You can also download 5 freebies.
Lightroom Blog – B&W and color presets ideal for fashion, bands, and portraits.
Lightroom Presets – Extensive catalog: baby, beauty, wedding, fashion, magazine, B&W, Urban, Still Life, Romantic, Film and a lot more.
Lookfilter.com – Presets collections for B&W, Vintage, Speed up Tools, and more, plus Photoshop Actions. Free trials available.
Love Lightroom Presets – Landscape photographers Sarah and Todd Sisson have created a range of landscape presets. Some packs are for specific technical challenges, others work with a broad range of images while others are pure creative fun.
MCP Actions – Focuses on Portraits. Also offers several freebies.
MVR Presets – Vintage and Romantic presets for newborns, weddings, children
Official Lightroom Exchange – Adobe Add-ons free and paid presets
One Willow – Presets range from subtle to dramatic, for portraits.
PhotoDoto– Reasonably priced presets as well as Photoshop Actions.
Photography Pla.net – Lots of presets for portraits as well as landscapes
Preset Shop – You'll find Beauty, Retrograde, +PS Chrome, Haze, Faded Film and more. You can also try them out by downloaded a few freebies. There are also Camera Raw presets, brushes and graduated filters, and textures and overlays for Photoshop.
Pretty Presets – For portraits, especially children and babies
Prolost – Offers 500+ graduated presets, which means you can use a stronger or lighter version, it's not one-size fits all. These work in LR4 on  up to Creative Cloud/ Lightroom 6.
Pro Presets – Wedding, nostalgia, film, fashion, b&w and more.
Really Nice Images– Simulating analog films – iconic and faded film, Instagram presets
Lightroom101.com – Brush and Local Adjustment presets, film, selective color among others
Seim Effects -Classic Vinyl, workflow, color and black & white
Serge Ramelli – A dozen collections mainly for landscapes, plus lights, fashion, portrait, lifestyle and B&W. Serge has hundreds of brush presets for portraits (lips, rosy cheeks, eyes etc.), lighting effects, atmospheric effects such as fog or adding drama to the sky.
Silky Presets 200+ individual presets and 8 ready-made collections plus Adjustments kits and Brushes kits
SLR Lounge – They've just released V6 Lightroom Preset System with 285 Develop, 31 Local Presets, 5 Export Presets including Vintage, HDR, color and B&W toning, color layering, special effects and adjustments, and a whole of of other stuff. These aren't just presets, it's a whole workflow development system. You can stack and layer them to create unique looks.
The Preset Factory – Free and reasonably-priced paid presets for Lightroom and Adobe Camera Raw specializing in the film look of shooting on analog cameras. Current offerings include Cine, Film 500, Urban,  InstantFilm and Matte Collections.
Totally Rad – This cool site run by Doug and Chenin Boutwell has presets as well as Photoshop actions and an awesome plugin called Radlab that makes Photoshop editing easier and faster. You can also download some sample presets and actions for free, also a trial of Radlab.
Stuck in Customs – There are presets…and then there are Trey Ratcliff presets. He does things with presets than I can only dream of doing. You have to see them to understand. He generously offers 10 free presets, samples from his various collections, and he has a new collection of presets each month. And they don't cost an arm and a leg either. Check them out.
Wonderland Presets – Nate offers a collection of 179 Workflow presets for LR 5 as well as a set for LR4. He'll also give you 14 others for free so you can check them out.
Free Print Templates
FlourishPhotog.com – over 175 free print templates by Jill Levenhagen. That's a lot of free stuff! These are used in the Print module but they're not for printing, rather they're designed for using with social media like making Facebook or Pinterest posts or for making a custom Facebook timeline.
Presets Heaven– 17 free US letter print templates. In fact, everything on this site is free including lots of presets.
Blurb Photo Book – Book templates are built right into Lightroom. There are 100+ customizable layouts and you access them from the Book module.
Plugins
Alloy Photo – for exporting to various photo sites and printers like Adoramapix, Snapfish and Smugmug
Capture Monkey – Popular ones include the Fader and Gradient Map
Jeffrey Friedl's Blog – Export & Publish plugins, add-ons and utilities. On a donation-ware basis.
Lightroom Solutions – Free and paid plugins created by John Beardsworth
LRB Plugins for Lightroom 2, 3 and 4
Lightroom Plugins – free plugins tested for Lightroom 2, 3, 4 and 5
Photographers Toolbox — Distributes many of the leading plugins for Adobe Lightroom and also develops custom plugins.
The Turning Gate – Features a collection of plugins for managing image galleries and photography websites. Co-developers Matt Campagna and Ben Williams released their newest gallery, the CE4 Client Response Gallery. It offers an easy way for clients to choose images and send that information back to the photographer. Their galleries can connect with one another to create a full website, managed by Lightroom's Publish module.
500px – 500px Publisher. You get 2-way sync, the ability to read and make comments and view stats
YouTube Channels
Andrew Gibson Mastering Lightroom – This is a new channel; I love Andrew's photography tutorials for Digital Photography School and I'm impressed with the LR videos he's done, especially on converting to/adjusting B&W. I hope he does a lot more tutorials.
Lightroom on YouTube The official Adobe channel features Julieann Kost. Sean Teegarden, and other Adobe experts teaching about the tools and features, editing tarvel photos, LR Mobile, and much more.

Anthony Morganti – Anthony's popular channel features in-depth tutorials on not just Lightroom, but Photoshop and Photoshop Elements as well. He's a great teacher and easy to follow. His videos are quite detailed and you will learn a lot. He has tutorials for newbies as well as more experienced users who want to expand their skills. On his website he also hosts photography workshops and one-on-one mentoring.
Cole's Classroom – Cole, a professional wedding photographer, has 60+ video tutorials on Lightroom tips and editing, wedding photography, photography equipment, beginner photography and photography business tips. His videos are detailed, clear and interesting. I always learn something new. Cole also offers presets and Lightroom courses via his website.
David Iliyn – David is a professional commercial photographer and his channel features photography and videography tutorials as well as Lightroom tutorials for wedding photos and portraits plus editing images taken with off camera flash.
Lightroom Zen – This channel by David Childers has a number of tutorials on portrait editing and retouching. In fact, his backlit portrait editing video has 120k+ views.
Serge Ramelli – Serge has one of the most popular Lightroom and Photoshop channels on YouTube. His videos are an excellent resource for learning Lightroom, particularly for landscapes and evening/night shots. His images, many of them shot in Paris (where he's based), are lovely. You will learn a ton from watching his videos, I know I have. If you subscribe to his website, you can download practice images to work along side him, as well as some free presets. Serge also offers paid courses, presets and brush presets via his website.
SLR Lounge – This channel has tons of Lightroom tutorials, as well as excellent Photoshop and Photography videos for all levels. They're detailed, easy to follow with excellent production values. If I need info on how to do something related to photograph, this is one of my go-to channels. Pye (the host) give you lots of inspiration to taking both your photography and post production to the next level.
Terry White – As mentioned in the blog section towards the top of this page, Terry is an evangelist (actually THE Evangelist) for Adobe. His channel features photography, Photoshop, Lightroom and other Creative Suite tutorials plus technology reviews. You can't go wrong with a guy who has over 216K subscribers! As of this writing he has 42 Lightroom tutorials on everything from matching exposure across photos to using LR Mobile, and I for one look forward to watching more.
Tony Northrup – Tony and his wife Chelsea have number 1 best selling books on Lightroom and Photography, and their channel is awesome as well. They make frequent videos (several per week) on photography, camera reviews, and Lightroom and the production values are excellent. They always have great examples and they're extremely personable and articulate. I've learned an incredible amount from watching their videos, This channel is a must-subscribe.
Valerie's Photo Channel – This is my channel, and I have 30+ LR tutorials and counting. I start with the basics like importing, familiarize you with the modules and features, and give you tips and tricks on everything from keywording and creating collections to making presets, color adjustments and more. I hope you'll check me out and subscribe.
Podcasts
Lightroom for Digital Photographers
TWiP TheFIX – Jan Kabili and other  top Photoshop and Lightroom experts share tips and creative ideas.. You may know Jan's name from the 40 courses she's done for Lynda.com
Save
Save
Save
Save