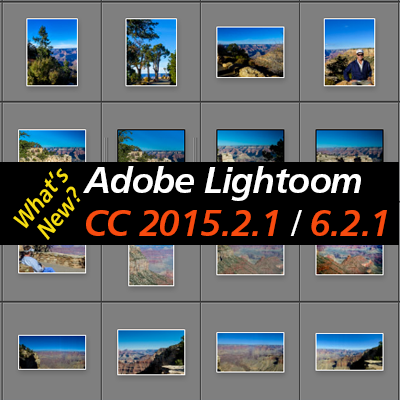 Adobe has released another Lightroom update, called CC 2015.2.1 and 6.2.1, to deal with the crashes and slow performance problems that many users were experiencing.
The new update is supposed to fix the Mac crashing bug and performance problems on both Mac and Windows that were apparently caused by the new Add Photos screen on the redesigned Import dialog. There was a general slowdown in performance because of the way Lightroom was scanning the computer for folders to show on the Add Photos screen.
While this new release addresses the issues people have been having, my personal feeling is unless you're in a big hurry to get camera or lens support, it may be a good idea to wait to make sure the kinks really have been worked out before you install this update.
Some users are still saying they're experiencing crashes with both operating systems and some who use a Wacom tablet say there is a pen lag when pushing sliders.
This new update doesn't affect the redesigned Import process, which I detail here in my blog post from Monday. The import dialog was revamped and simplified to make it easier for new users to get their photos into Lightroom. But, as part of that redesign, there were some features removed that power users liked. So if you used some of those features, you may prefer not to update. There is a possibility that Adobe may decide to add the missing functions back into the new Import dialog, but right now that's still speculation. My earlier post includes a video that shows you the new, streamlined Import process.
I love Lightroom and think it's a great product. The new Import process will definitely make it less frustrating for newer users to import their photos. But I will continue to wait a while and look at  more feedback from other users before I update.
If you do decide to proceed with update: Creative Cloud subscribers should see a prompt in the Adobe Updater app. If you have Lightroom 6, go to Help menu > Updates.
If you're using 6.2.1 / CC 2015.2.1, how is it going for you? Tell me what you think in the comments.