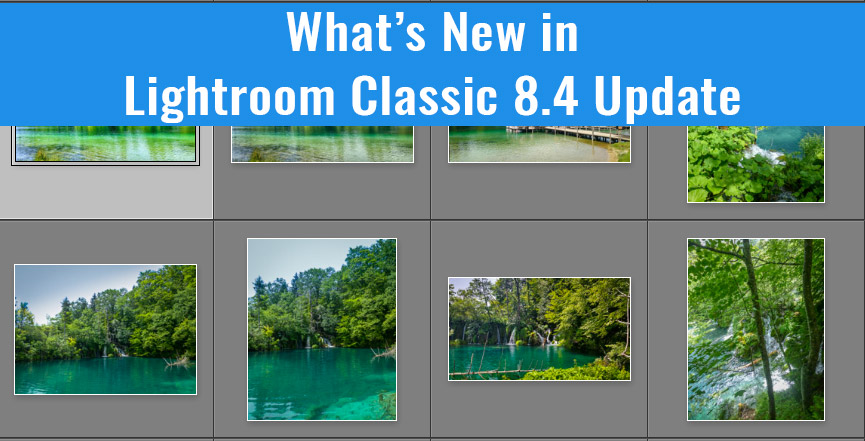 Lightroom Classic 8.4 (August 2019 update) has some welcome new features. Now you can batch-process HDR and Panorama stacks, there are new GPU Acceleration and performance improvements, and you can export PNG files. Adobe has also fixed some bugs and added new camera/lens support.
GPU/Performance Improvements
GPU Acceleration for Image Editing – In earlier versions, you could enable GPU acceleration to improve the speed at which you image is displayed. But many users, particularly on 4k or 5k monitors, still experienced a delay between making an edit in Develop Mode and seeing it applied. If you're one of them, you may be particularly happy about this update, which speeds up image calculations. When you move a slider you should see that LR updates the image much faster. It may also help improve the response time with brush and other local adjustments.

Since everyone's system is different, you may want to experiment with enabling and disabling the options to see what works best for you. Go to Edit > Preferences> and select the Performance tab. Auto is the default and you can select Custom to pick which enhancements you want to use. Be sure you have the latest drivers installed for your computer. On Windows 10 these GPU enhancements will need a graphics card with DirectX 12 support and 2GB or more of VRAM. Mac users will need Mac OS 10.14 or later, a graphics card with Metal support plus a minimum of 2GB of VRAM.
Photomerge Batch Processing for HDR and Panoramas
Lightroom will now process multiple stacks of HDR merges or Panorama merges at the same time instead of one at a time. This will be a big benefit for real estate and landscape photographers in particular. If you haven't used stacks before, I have a video tutorial that explains all about stacks.
To merge multiple sets of HDR images: Select your source files then right click and choose Stacking>Group into Stack. Do this for each set of HDR images. Then select all the stacks and right-click on one and select Photomerge > HDR. Lightroom will process all of the stacks for you. Use the same principle for processing Panoramas and Panorama-HDR, but don't mix them all together: only process HDRs stacks with other HDRs stack, and only Panorama stacks at the same time as other Panorama stacks, because the same merge process will be applied to all the selected stacks.

Additional Color Labeling Options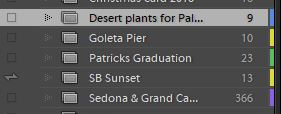 For years we've been able to add color labels to images and folders, but now we can add color labels to collections, smart collections and collection sets. Right click on a collection or collection set and choose Add Color Label to Collection then select a color. To remove a color, you would selection "None" as the color. You can learn more about using Collections and Smart Collections in my video tutorial.
Export Images as PNG
While importing PNGs into Lightroom has been available for some time, exporting images as PNG files has been on the Lightroom "wish list." This format is primarily used for web images, graphics and for preserving transparent areas in an image. I can't see a way to create transparency in Lightroom Classic in a way that it would actually be used. It's simple to do in Photoshop, so it seems like you'd just export a PNG from Photoshop. But if you want to export PNG's in Lightroom Classic, now you can with the Lightroom Classic 8.4 update.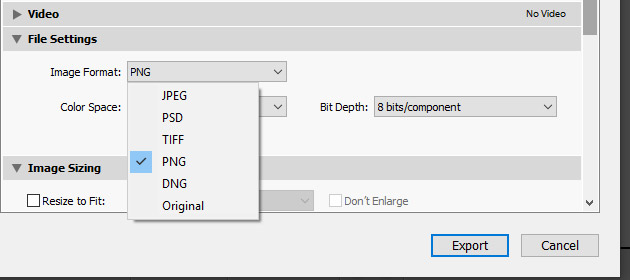 Index Numbers in Filmstrip
You'll now see index numbers in the filmstrip. They indicate the number of images in your collection of folder starting with image 1. If you dont' want to see them, you can turn off the index numbers: right-click on one of the filmstrip thumbnails and select View Options >Hide Index Number. Likewise, if they're turned off, select View Options>Show Index Number to make them appear.

New Camera and Lens Support
Canon PowerShot G5 X Mark II
Canon PowerShot G7 X Mark III
Fujifilm GFX 100
Hasselblad X1D II 50C
Leica V-Lux 5
Panasonic LUMIX DC-GX880
View the list of new supported lenses here
Lightroom Classic 8.4 Reported Bugs/Issues:
There are a few cautions regarding the Lightroom Classic 8.4 update. Some Mac OS 10.14.6 users have said Lightroom freezes after launching. If you're having problems, you can revert to the previous version, Lightroom Classic 8.3.1. Go to your Creative Cloud App and scroll to Lightroom Classic – on the little arrow on the Open button, click on the dropdown, choose Manage > Other Versions and you will see a list of previous versions.
Also, an issue with HDR/Panorama merge is being reported by Mac OS 10.14.6 users. According to Adobe it's being worked on.